Chimney Repairs in Jacksonville, FL
At Jack C. Wilson Roofing Co., we strive to provide exceptional chimney repair services at affordable prices — without ever sacrificing quality! Keeping a chimney in tip-top shape is a key element to not only being able to enjoy a nice, warm fire but also to ensuring home safety.
When a chimney begins to show signs of wear and tear, it's critical that homeowners have it assessed and repaired as quickly as possible. Failure to maintain a chimney can lead to decreased efficiency, loss of property value, or even chimney fires which can prove destructive and fatal.
Don't take your chimney for granted! If you believe that your chimney is in need of repairs or would like an expert's opinion, contact us at (904) 396-1546.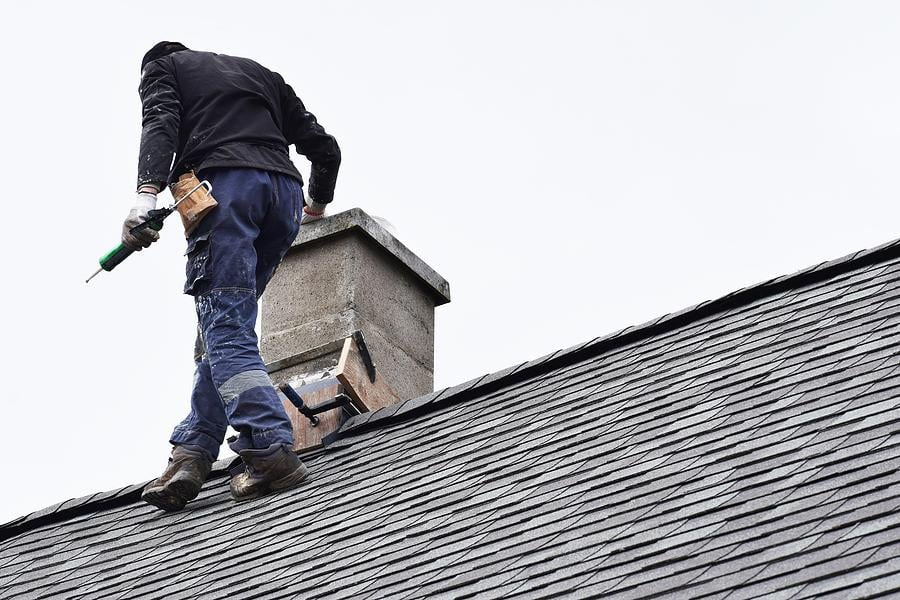 How long do brick chimneys last?
Brick chimneys can add a touch of charm to any house and provide warmth and a sense of coziness as well. Before purchasing a home with a brick chimney, many homeowners ask their realtor or inspector, "How long do brick chimneys last?" It's a smart question to ask as a brick chimney is definitely an investment.
If a chimney was correctly built and cared for, it can have a lifespan ranging from 50 to 100 years. However, for a brick chimney to last that long, it's essential that it was properly maintained throughout its life, which includes annual inspections and cleanings.
Contact Us for a Free Quote
There are a variety of factors that can affect how long a brick chimney lasts, including:
• Location: Chimneys located in the middle of a home often last longer than chimneys located on the side of a building where they're more exposed to the elements.
• Chimney cap: A chimney cap keeps out debris, rain, and other unwanted materials which prevents the bricks from succumbing to decay. If your chimney does not have a chimney cap, it's worth considering getting one to prolong the life of it.
• Waterproofing: Although brick is a strong, durable material, it can still break down over time due to moisture exposure. Waterproofed chimneys last longer.
Why is my chimney not working?
Most people realize something is wrong with their chimney when they build a fire only to find smoke filling up the room. This is definitely not what you expect when you use your fireplace!
If your chimney isn't working as it should, this is a sign that it is in need of repairs. Failure to address repair needs can lead to fire hazards. On top of smoke draw issues, be on the lookout for the following signs of damage:
• Rust: Rust on your damper or firebox is a sign of excess moisture in the chimney. Rust can prevent the demper from sealing well or operating as it should. Rust in your chimney could also be a clue of other damage, like cracked flue tiles or insufficient maintenance.
• Shaling: If there are thin pieces of chimney tile collecting at the bottom of your fireplace, the flue lining could be damaged.
• Deterioration of Mortar Joints: If your mortar joints are deteriorating, your chimney could face exposure to more moisture which could cause deterioration of the entire chimney. If you live in an area that experiences cold temperatures, there's a chance the moisture inside the masonry could freeze and then thaw, leading to larger cracks or even a collapsed chimney.
• White staining: White staining on a chimney also known as efflorescence could be indicative of a moisture problem.
What causes leaky chimneys?
Floridians are no strangers to leaky chimneys. Unfortunately, the high degree of humidity coupled with the rainy season are a bad combination for chimneys, especially ones that have not been properly maintained. Many chimney leaks stem from cracks in the chimney crown, while others might leak from the inside out as a result of condensation. Still, the simplest explanation for a leaky chimney may simply be from a lack of a chimney cover or a poorly fitted cap.
Whatever the cause, a leaky chimney is the type of chimney issue that you want to have looked at and repaired as soon as possible.
How much does it cost to fix a leak in a chimney?
Chimney repair costs can vary greatly in price. In the case of a chimney leak, costs may vary depending on what the source of the leak is. Oftentimes, the chimney needs resealing with mortar or our specialists may decide that chimney flashing needs to either be replaced or repaired.
Jack C. Wilson Roofing Co. is Northeast Florida's longest-standing roofing company. Our team has repaired and replaced roofs after every storm in Northeast Florida since 1946. We understand how hard it can be to find a qualified roofer that offers chimney leak repairs at reasonable prices. We take pride in our ability to provide affordable leak repair solutions while maintaining quality assurance.
To get a quote, call us at (904) 396-1546 or contact us online today.
Is chimney damage covered by insurance?
Depending on the situation, your homeowners insurance might cover chimney damage. However, it's never a guarantee that your insurance will cover the damage, so you'll need to thoroughly document what happened. Damage caused by old age, wear and tear, improper care, and neglect are typically not covered.
If a covered loss caused the chimney damage, there's a chance your insurance company will approve the claim. A covered loss might include a sudden and unexpected event such as:
• Your chimney was struck by lightning
• A tree fell into your chimney and damaged it
• An unexpected chimney fire
Your policy will thoroughly detail the events that are covered and not covered. It's crucial that you properly maintain your fireplace and chimney. Failure to do so could result in an insurance company rejecting your claim, even if the damage was caused by a covered loss.
Hiring the Best Chimney Repair Services Near Me
Our team of experts have the experience and dedication needed to provide outstanding chimney repair services in the Northeast Florida area. We've seen and done it all, from leaking chimneys to leaning chimneys and chimneys that need inspections and cleaning. When you turn to Jack C. Wilson Roofing Co. for your chimney repair needs, you can rest assured that you'll have access to the best solutions for your situation and that your specialist will provide top-quality services for your home.
Contact us today to get a free quote for your chimney repair needs!
Contact Us for a Free Quote