Roof Replacements in Jacksonville, FL
If you're in the market for a complete roof replacement, you likely know how daunting the process can seem. There's a lot to handle between estimating roof replacement costs, figuring out what insurance will cover, and finding a reliable roofing company that won't skimp on quality. This is where Jack C. Wilson Roofing Co. comes in.
We know how important a strong, dependable roof is, especially when facing storms and rainy seasons. If you would like more information about our roof replacement services, please contact us today. We look forward to earning your business!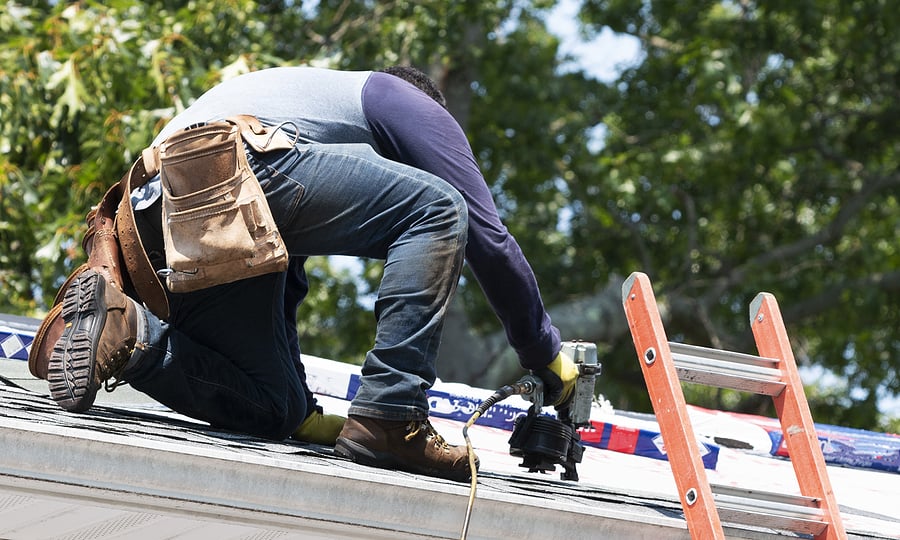 How much do roof replacements cost?
The average range for a roof replacement cost is between $5,100 and $10,000 while the national average is around $8,000.
However, these are just estimates and the actual cost of your roof replacement will depend on a number of factors as described below.
How do I estimate the cost of a new roof?
It's no question that replacing a roof is one of the largest investments homeowners consider. Not only is this likely one of the single biggest expenses a person will incur in their homeownership journey, but it's one that can have a huge impact on the value and safety of your home.
Contact Us for a Free Quote
Unsurprisingly, one of the most common questions we hear from new clients is, "How do you estimate the cost of a new roof?"
Like many home repair services, the answer is it depends. The factors that our team will take into consideration when providing a free quote for your roof replacement are:
Square footage of the roof replacement
Type of roofing materials that will be used

Asphalt shingles
Metal roofing
Tile roofing
Wooden shingles
Slate roofing

Labor costs
Roof height and pitch
Roofing removal costs
Additional roof replacement materials and features

New roof underlayment
Replacement or repair of roof decking
Water barriers
Installment of new fascia boards and soffit replacement
Roof flashing replacement
New pipe boosts
As you can see, there are a number of considerations to take in when it comes to estimating the cost of a new roof. When you work with our roof replacement team, they'll provide a quote specific to your home and situation.
Common Roof Problems in Florida
There's no getting around the fact that Florida's weather is tough on roofs. Homes in Florida see everything from hail storms to thunderstorms and gale-force winds, meaning your roof will likely sustain some damage throughout its lifetime.
Some common roof problems we see in the clients we serve include:
Leaks caused by storms that weaken your roof's damage resistance
Large puddles of water forming on the roof, common after a big storm rolls through
Billowing, tenting, or reduced wind uplift resistance
Damage from extreme weather from hail, wind, lightning, or tropical storms
Does insurance cover roof replacement?
The roof is one of the most exposed parts of your home that has to hold up against natural elements. Whether it's heavy rain and storms in the Florida area or snow and hail in the midwest, it's no surprise that roofs are often in need of repair or replacement.
Homeowners insurance often covers some, if not all, of the costs of a complete roof replacement, provided the roof was damaged by a covered event. A covered event for roof replacement could include damage from a sudden and unexpected event like:
Fire
Hail
A falling tree
Ice storms
Heavy wind
Hurricanes
Tornadoes
However, if your roof sustained damage that was due to improper maintenance, wear and tear, or simply old age, your insurance company may not be required to cover the replacement costs.
How long does a complete roof replacement take?
Another common question we hear from clients is, "How long does a roof replacement take?" While more complex roof replacements can take longer, on average a new roof replacement may take 1-4 days. We use the following factors to determine roof replacement time:
Weather: Working in optimal weather allows our team to work more quickly to replace your roof. However, cold weather can affect replacement time since additional steps may need to be taken.
Roof size and steepness: If a roof is especially steep, it may require additional safety measures for our crew. Also, the larger your roof, the longer it will take to completely replace.
Accessibility: If there are other homes very close to yours or if there is no paved drive can affect the timeline for a roof replacement. Or, if your home has a great deal of landscaping surrounding it, that could make it more difficult to access the roof.
While there isn't a one-size-fits-all answer when it comes to how long it will take to replace your roof, our team will provide the best estimate and ensure that you're kept informed every step of the way.
Roof Replacement Services in Jacksonville, FL
We are Northeastern Florida's longest-standing roofing company — we've repaired and replaced roofs after every storm in the area since 1946! Our team uses only the best materials, so you can rest assured that your roof will remain resilient for decades to come.
If you have additional questions or wish to receive a free quote for your roof replacement, please contact us at (904) 396-1546 and our team will get back to you as soon as possible.
Contact Us for a Free Quote