The first decision has been made, and you've determined your home needs a new roof. Regardless of the reason: leaks, damage from hail, wind, or lightning during extreme weather, or simply age, it's time to take the plunge and undergo the re roofing process. But now you must make a second decision. Should you stay in your home or head out of Dodge while the work is being done? Ultimately, is it safe to stay in your home while your roof is being replaced?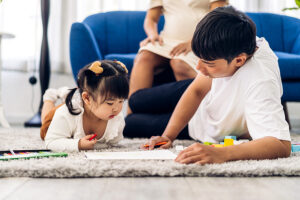 First things first: staying in your home while your new roof is being installed is completely fine. It comes down to a matter of preference and budget. Some homeowners have no desire to stick around during the project, while others have no choice but to stay. 
Should I Stay or Should I Go?
If you are still undecided about staying or leaving, here are some things to consider as you make your final decision:
How Long Does It Take to Replace a Roof?
A new roof is a sizable investment, so it won't always be possible for a homeowner to stay somewhere else while the work is being done. The biggest thing to know up front is how long your roof project will take so you can decide whether you should stay or go. Most new roofs take only a few days to install, but factors such as weather delays, roof accessibility, and roof size and steepness can play a part in the ultimate timeline. 
Can I Handle the Noise?
Installing a new residential roof is not a quiet endeavor. It involves a large amount of active noise. Workers will be working throughout the day for long hours, possibly several days to a week or more. Consider whether the amount of noise will be an annoyance or something you can ignore. If you work from home or have young children who need to nap during the day, the extra noise may be too much. But if you work away from home during the day, this may not be a problem. 
Watch Out for Falling Debris
Replacing a roof is a messy business. Your roofer will try their best to contain the debris, but you will still need to be mindful of falling materials that could damage outdoor furniture and cars. Whether you choose to stay or go, you must store away outdoor furniture, grills, and outdoor valuables in a shed or garage and park your vehicles away from your house, not in your garage. Any items that cannot be stored should be covered. 
Will My Pets Be Safe?
You know your pet. If they become easily distressed by loud noises, lots of activity and new people, you may want to consider staying with friends or family during the re-roofing process or having your pet stay with someone else. While at home, pets must be secured inside during your re-roofing project to protect them from falling debris. Objects on the ground, such as loose nails, and the flurry of activity going on outside.
Will My Children Be Safe?
If your children are school-age, they will most likely be at school during the day and not a concern. While children are at home, it is imperative that they remain indoors and are not allowed to play outside the house while roofing work is being done. This will keep them out of the roofers' and harm's way.
Choosing What's Right for You
We know the decision of whether to stay or go is not always easy, but regardless of whether you choose to stay in your home or leave for the duration of the roofing job, we are here to help make your roof replacement experience a positive one. 
As Northeastern Florida's longest-standing roofing company, we have been replacing and repairing roofs with only the best materials since 1946. We take pride in our work and transparency with our customers and guarantee your new roof will protect you and your family for many years. 
Contact us today to know more about our variety of roofing services and discuss any questions you may have. We look forward to talking with you and putting a quality roof over your head.