Imagine this: You're comfortably snuggled up in your living room on a rainy day, enjoying a good book, when suddenly, a drop of water lands on your forehead. That's not rain; your roof tells you it needs some attention. In this article, we'll walk you through the signs of a problematic roof and how to avoid a real-life horror story. Let's dive in.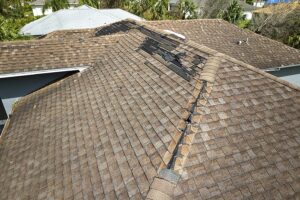 Missing Shingles
Shingles are like the bodyguards on your roof. They protect your home from the outside world. But when they go missing, your house is exposed and vulnerable to the elements. Missing shingles can happen for some reasons; maybe a wild storm took them out, or they were installed poorly from the get-go. It could even be that time has simply taken its toll.
How can you tell if you have missing shingles? Look out for bare spots where shingles should be on your roof or keep an ear out for shingles flapping around in the wind.
If you find missing shingles, don't wait around. It's crucial to address the issue as soon as possible. Ignoring the problem can lead to even bigger headaches, like water damage, leaks, or structural defects. You may need to replace the missing shingles or repair any damage that's been done, but taking action quickly will prevent further ruin and keep your roof protecting you for years to come.



Leak in Roof
Leaky roofs can cause trouble, from damaging your home's structure to threatening your family's health. It's easy to identify and fix a leaky roof. Look out for water stains or dampness in your attic, and keep an eye out for any musty smells or discoloration on your walls and ceiling. But remember, some leaks may be hidden from plain sight, so it's essential to conduct regular roof inspections.
If you suspect a leak, finding the source is the first step. Once you've located the issue, act fast to prevent further damage. Depending on the severity of the problem, you will likely need the help of a professional roofing contractor.



Water Damage on Ceiling
If you've ever seen a stain on your ceiling, it's easy to think it's just a matter of aesthetics. But did you know that water damage on your ceiling could indicate a more severe problem with your roof? Several types of water damage can occur on your ceiling, from brown or yellowish stains to sagging. These can be caused by issues such as a leak in the roof, damaged shingles, or poor ventilation.
To identify water damage on your ceiling, look for discoloration or staining. If you're not comfortable inspecting it yourself, it's always best to hire a professional roofing contractor. But don't ignore it. Water damage can lead to serious issues like structural defects or collapse.



Sagging Roof
A sagging roof is a homeowner's nightmare, and it's not just an eyesore but a sign of a significant issue. The causes of a sagging roof can be traced back to poor construction or water damage, which weakens the support beams and cause the roof to sag. Addressing this problem as soon as possible is essential to avoid further damage to your property.
Identifying a sagging roof is not difficult. Look for visible dips or depressions in the roofline and cracks or gaps in the walls or ceiling of your home. Ignoring a sagging roof could lead to further issues, such as pest infestations or a decrease in your property's value. To prevent these outcomes, have your roof inspected by a professional roofer and address the problem promptly.
Keep Your Roof in Top Shape
As a homeowner, it's easy to overlook the condition of your roof until it's too late. But by paying attention to the warning signs, you can catch problems early and save yourself from costly repairs or even a full roof replacement. If you notice anything unusual, don't hesitate to take action.
Schedule a professional inspection with a trusted roofing contractor today. Your family's safety and your home's protection are too important to risk.