Hiring a roofing contractor is a significant decision that greatly impacts the condition and value of your home. Whether you need roof repairs or a complete replacement, choosing a reliable and experienced professional for the job is crucial. But determining who is the best professional for your project isn't easy. You must make some inquiries and find a reliable roofing contractor.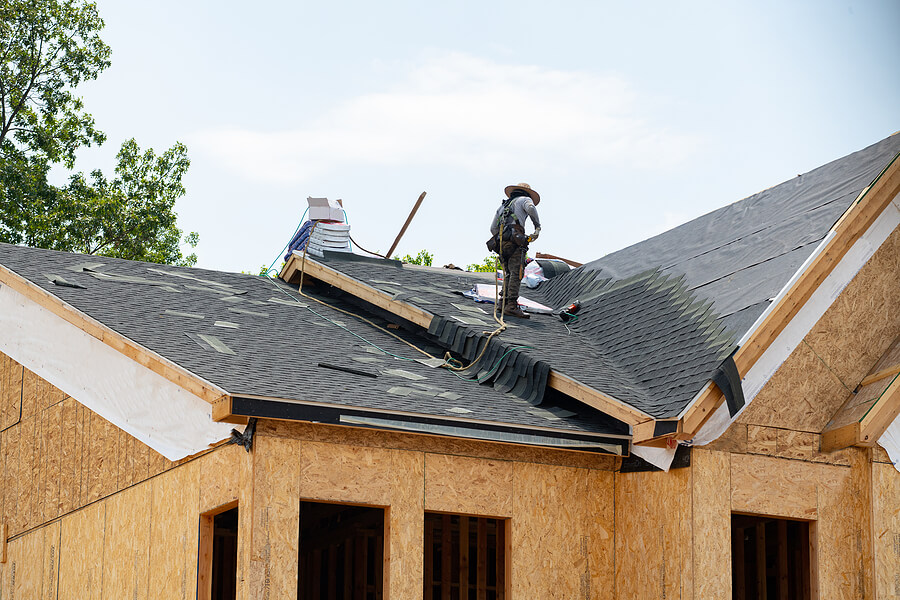 But what should you ask your roofing contractor? Don't get overwhelmed! We've listed some commonroofing questions and answers you can ask a roofing contractor to ensure a smooth and successful roof replacement or repair project. We've also addressed common concerns when expecting a roofing contractor. Keep reading to enrich your knowledge. 
Top Five Common Roofing Questions and Answers
When it comes to selecting a roofing company, trust is paramount. So, asking targeted questions is crucial in assessing the reliability of a roofing company. When you receive satisfactory responses from the contractor, you can proceed confidently, guaranteeing a successful roofing project. 
Let's dive in –
How long will the project take?
The length of time required for a roofing project differs for every project since different factors, like the roof dimensions, task complexity, and weather conditions, influence it. A reliable contractor must provide an estimated timeline based on these considerations.
Which roofing material is most suitable for my home?
Several factors influence your selection of roofing material, including your budget, climate conditions, and desired aesthetics. Common roofing materials choices include asphalt shingles, metal roofing, tile, and slate. A professional roofer will assess your needs and recommend the most suitable material for your home.
How much will the project cost?
Roofing project cost depends on factors like roof size, materials chosen, additional services required (such as insulation or gutter installation), and the contractor's pricing structure. It's best if you get quotes from multiple contractors. This helps you compare prices and ensure transparency. 
Can you provide references or examples of your previous work?
A reputable roofing contractor should be proud to showcase their previous projects. Asking for references or examples of their work allows you to assess their craftsmanship, quality of materials used, and overall customer satisfaction. You can also check online for some reviews and testimonials of the company to gather more information about its reputation.
Do you offer a warranty on your work?
A reliable contractor stands behind their workmanship and should offer a roofing installation or repair warranty. Inquire about the duration and coverage of the warranty to ensure that you are protected against any defects or issues that may arise.
What to Do Before Signing a Roofing Contract?
Before you sign a roofing contract, it's crucial to take a few important steps:
Learn About the Contractor

: Review previous customer reviews, ratings, and testimonials. You can deem a constructor reputable if they have a good reputation and positive feedback.

Verify Insurance and Licenses

: 

Ensure the contractor has proper insurance coverage and the necessary licenses to perform roofing work in your area. With such information, you can have peace of mind that you can stay at ease if accidents or damages occur during the project.

Try Getting Multiple Estimates

: 

Obtain quotes from different contractors to compare prices, materials, and warranties. You can easily select the best option that fits your requirements when you have multiple options. 

Go Through the Contract

: 

Read the contract carefully before proceeding with a contractor. You must understand all the terms and conditions. Ask the contractor for clarification if you have any doubts or concerns.
Do Roofers Need to Come Inside My Home?
One of the first questions you may have is whether or not roofers need access to the inside of your home. In most cases, roofers can complete the job without entering your house. 
However, there are exceptions. For instance, if an attic requires insulation or ventilation work, the roofer may need access to the interior. It's crucial to clarify this with the contractor beforehand, so you can make the necessary arrangements.
Do I Need to Be Home for Roof Replacement?
You do not always need to be home during the roof replacement process. However, we advise you to stay present when the roofer starts and handovers the project. This lets you communicate any specific requirements or concerns directly with the contractor. 
Additionally, being present for the final inspection ensures you are satisfied with the completed work before payment.
A reputable roofing contractor will be transparent, knowledgeable, and willing to answer all your questions. By asking these important questions and following the recommended steps, you can confidently hire a roofing contractor and ensure a successful roofing project.
And if you're searching for a reliable and professional roofing company, consider Jack C. Wilson Roofing Co. for your rescue. We're a seasoned roofing company serving Northeast Florida with a team of skilled professionals ready to assist you with roofing needs. Contact us to schedule a consultation.